General McAuliff - Commander of 101st Airborne at Bastonge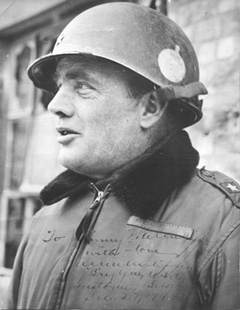 Hitler massed in troops in the Ardene forests under Gen. ManTaufel , their mission was to capture the port city of Antwerp. Eisenhower realizing the importance of Bastonge dispatched the 101st Airborne Division to hold the town at all costs.The 101st Airborne was up against four German Panzer Divisions, two German Infantry Divisions and one German Parachute Division. These units spearheading the last desperate German lunge, were headed straight West for key points when the Eagle Division was hurriedly ordered to stem the advance.

Totally surrounded the Germans sent this to McAuliff.


December 22nd 1944

To the U.S.A. Commander of the encircled town of Bastogne,

The fortune of war is changing, This time the U.S.A. forces in and near Bastogne have been encircled by strong German armored units. More German armores units have crossed the river Ourthe near Ortheuville, have taken Marche and reached St. Hubert by passing through Hombres-Sibret-Tillet. Libramont is in German hands There is only one possibility to save the encircled U.S.A. Troops from total annihilation: that is honorable surrender of the encircled town. In order to think it over a term of of two hours will be granted begining with the presentation of this note.If this proposal should be rejected, one German Artillery Corps and six heavy A.A. Battalions are ready to annihilate the U.S.A. Troops in and near Bastogne. The order for firing will be given immediately after this two hour's term.

All the serious civilian losses caused by this Artillery fire would not correspond will the well known American humanity.

The German Commander
Gen McAuliff didn't get a Medal of Honor. In fact neither did Patton, Eisenhower , Black Jack Pershing , etc.