The King David Massacre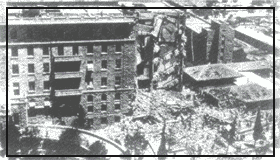 The King David Hotel explosion of July 22, 1946, which resulted in the deaths of 92 Britons, Arabs and Jews, and in the wounding of 58, was not just an act of "Jewish extremists," but a premeditated massacre conducted by the Irgun in agreement with the highest Jewish political authorities in Palestine-- the Jewish Agency and its head David-Ben-Gurion.
According to Yitshaq Ben-Ami, a Palestinian Jew who spent 30 years in exile after the establishment of Israel investigating the crimes of the "ruthless clique heading the internal Zionist movement,"
The Irgun had conceived a plan for the King David attack early in 1946, but the green light was given only on July first. According to Dr. Sneh, the operation was personally approved by Ben-Gurion, from his self-exile in Europe. Sadeh, the operations officer of the Haganah, and Giddy Paglin, the head of the Irgun operation under Menachem Begin agreed that thirty-five minutes advance notice would give the British time enough to evacuate the wing, without enabling them to disarm the explosion.
The Jewish Agency's motive was to destroy all evidence the British had gathered proving that the terrorist crime waves in Palestine were not merely the actions of "fringe" groups such as the Irgun and Stern Gang, but were committed in collusion with the Haganah and Palmach groups and under the direction of the highest political body of the Zionist establishment itself, namely the Jewish Agency